Okay, deretso na agad!
1. The Internet Archive: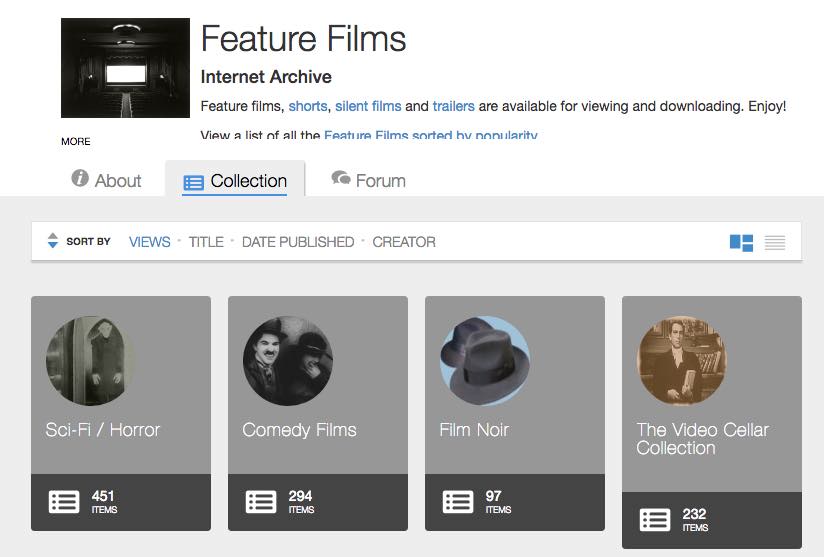 You'll be surprised to find The Internet Archive sitting at the top of our free movie download websites. It like a goldmine for the fans of movies, music, and books. From The Internet Archive, you can download hundreds of movies for free in the form of torrents. This list includes the original Jungle Book, Farewell to Arms, Iron Mask, Night of the Living Dead, The Brother from Another Planet, etc.
About 4-5 years ago, The Internet Archive just provided direct links and often the movie downloads failed as the file sizes were large. Thanks to the torrent links, now you can easily enjoy hundreds of movies without spending a penny. The overall catalog found on this website is continuously growing and new content is added every day. The website also allows creating a free virtual library card which grants you access to forums, ability to upload videos, bookmark favorite content, etc.
2. Retrovision:
Retrovision is a great source for downloading movies. By paying a visit to this free movie download website, you can get your hands on many classics and free TV shows in the public domain. This source of classic content also has an Android app named Classic UHF, using which you can grab and watch things on the go.
Thanks to its genre-specific menus, searching for movies on Retrovision is very simple. The website splits its content into different popular categories like Adventure, Comedy, Crime, Cartoons, Sci-Fi, Horror, War, Drama, and Westerns. If you are looking for all the content at one place, just hit the All Movie List button. You can also sign up for their newsletter to get notified about any new content that's posted on the website.
3. The Roku Channel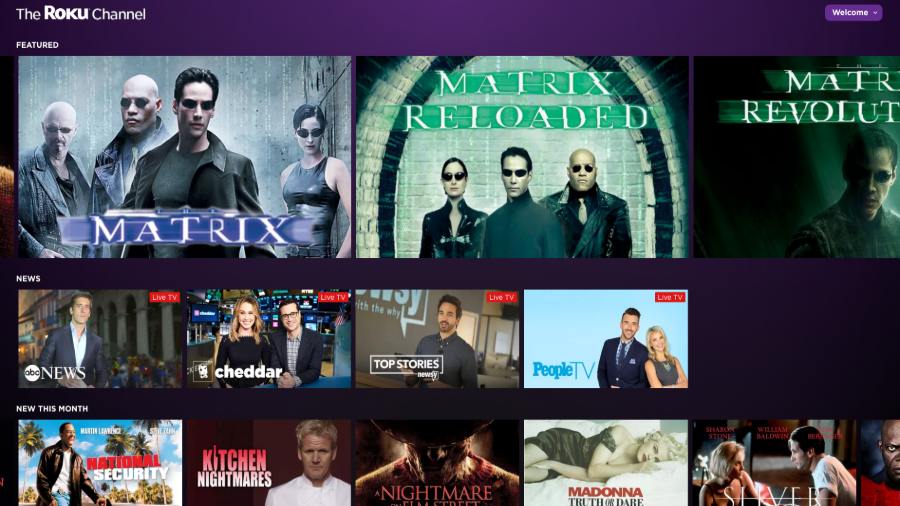 Roku has recently launched its free streaming channel, The Roku Channel which is available on the internet and could be accessed even if you don't have a Roku hardware. This free movie site hosts some of the popular movies such as The Matrix Trilogy, Last Knights, popular tv shows like Kitchen Nightmares, Gravity, Forensic Files, etc. All the content on the channel is categorically arranged which makes it users for users to search for a movie or TV of a particular genre.
After signing up, you can start watching the free movies online right away. The free streaming channel is a great addition to the free and legal video content streaming websites and the fact that it comes from Roku also assures that the content will be frequently updated on the channel.
Please note that The Roku Streaming channel is only available in the United States. If you plan to stream movies and shows from other countries, use of a
VPN is recommended
.
4. YouTube: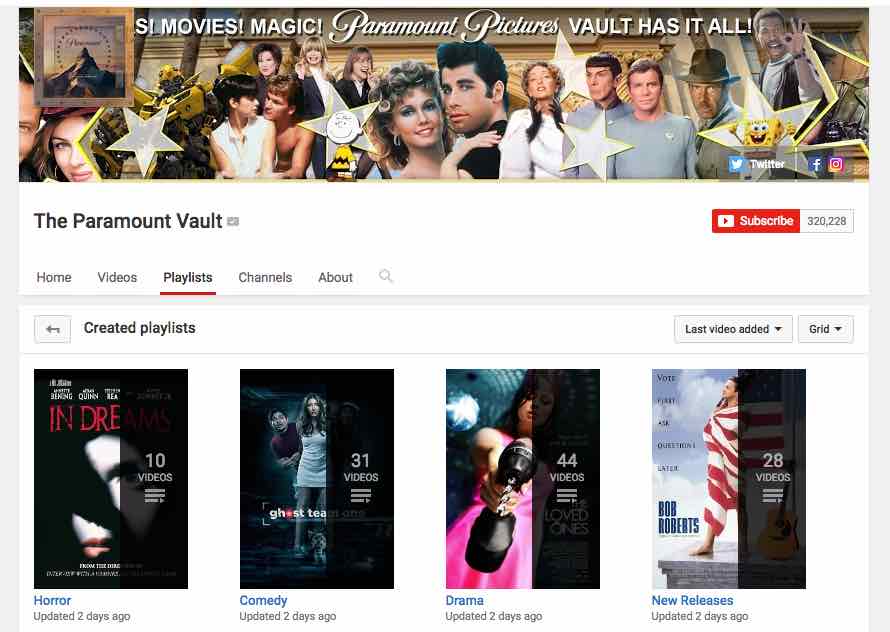 Just like millions of free cat videos, YouTube also hosts numerous movies in public domain. There are multiple channels that let you watch movies for free that are that in the public domain. There are some specific movies and TV shows that are YouTube originals and you can enjoy them without paying a penny.
Talking about some popular channels, there's
The Paramount Vault
that features a long list of classic feature films. You can also find more movies on
Public Domain Full Movies
,
Maverick Movies
, and
Popconflix
channels. While finding free movies on YouTube might be a little difficult, it's recommended due to its good streaming speed and lesser advertisements. You can also bookmark free movies on YouTube app and watch it on the go.
5. Crackle
Crackle is a great website for free movies online as it's owned by Sony. So, naturally, you get lots of movies to watch. You need to do a simple signup, create a watchlist and you'll be shown recommendations based on your priorities.
Crackle offers lots of popular movies and TV shows that you won't find for free on other websites. As long as you are willing to watch a couple of ads and commercials. Some of its great offerings include Seinfeld, Firefly, Sports Jeopardy, and more. Crackle has Android and iOS apps as well, which is an obvious plus point. Some of the content on Crackle could be blocked in your country due to license restrictions. You can access them using a VPN or proxy service.
6. Pluto TV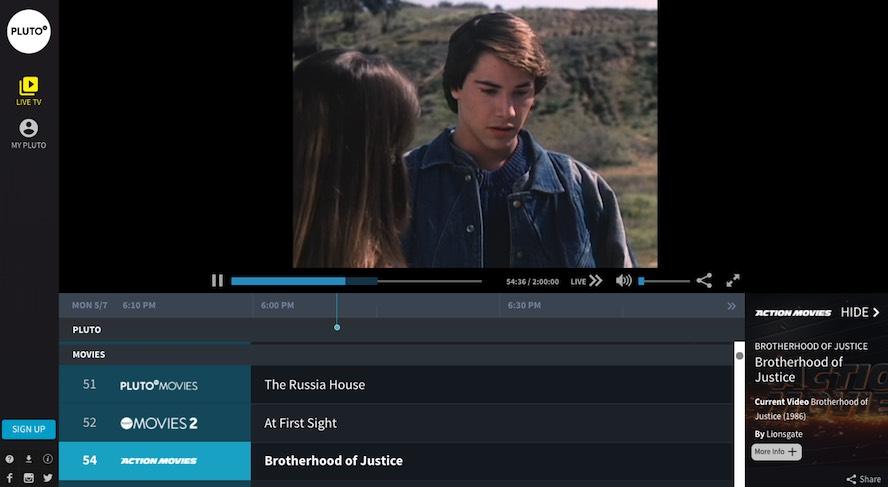 Pluto TV tries to mimic a traditional TV layout and it's one of my favorite services on this list. This service to watch free movies online offers 75+ TV channels from different categories. All these channels are divided into news, TV, movies, tech, sports, and other popular sections. Pluto TV also offers its official application for almost all popular platforms and you can enjoy the content on the go. They also have their own dedicated movie channel. One thing you should note is that some channels will only be available if you're in the US. So, you can either use a VPN service or a proxy for an uninterrupted experience.
7. Open Culture
Open Culture offers high-quality videos from all across the world. It's a home to free movies, free online courses, and free language lessons. Founded in 2006, it has 6 main sections: Movies, Online courses, Language lessons, e-Books, Textbooks, Audiobooks. Movies section consists of an excellent collection. Currently, it hosts 1,150 free movies online that includes a special collection of Oscar Winning Movies and Charlie Chaplin movies.
8. MoviesFoundOnline: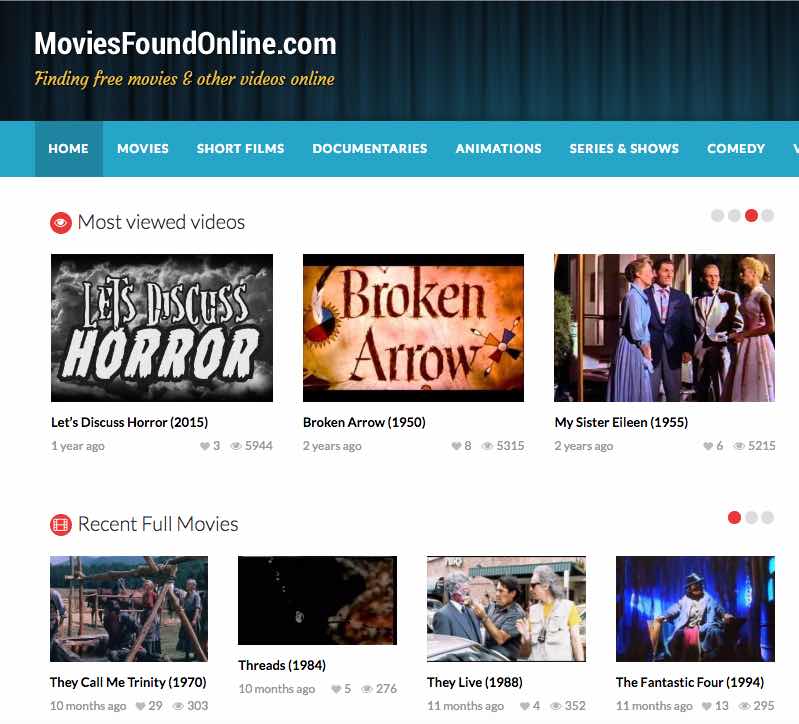 This website curates free movies, independent films, TV shows, and stand-up comedy video. The website hosts free movies ranging from cult classics and short films to documentaries and comedy movies.
This website curates lots of public domain movies and serves them to you. As MoviesFoundOnline doesn't host or upload any media on its own, it works actively to delete the movies if there's some copyright infringement.
9. PopcornFlix:
This free movie streaming website is owned by Screen Media Ventures. The website offers lots of public domain movies and original content. You can use this website to view content on any type of device without spending a single penny.
The website hosts thousands of free movies spread across multiple categories like drama, action, comedy, horror etc. Here, you'll also get many free TV shows and full National Geographic series catalog.
10. Classic Cinema Online:
If you are a fan of classic cinema, Classic Cinema Online is going to become your new best friend. This movie download website hosts classics like Bye Bye Birdie, Mobey Dick, Lone Ranger and more.
Using its helpful sorting by category feature, one can look for the content that suits him/her and instantly enjoy movies with a bowl of popcorn.
11. Hulu: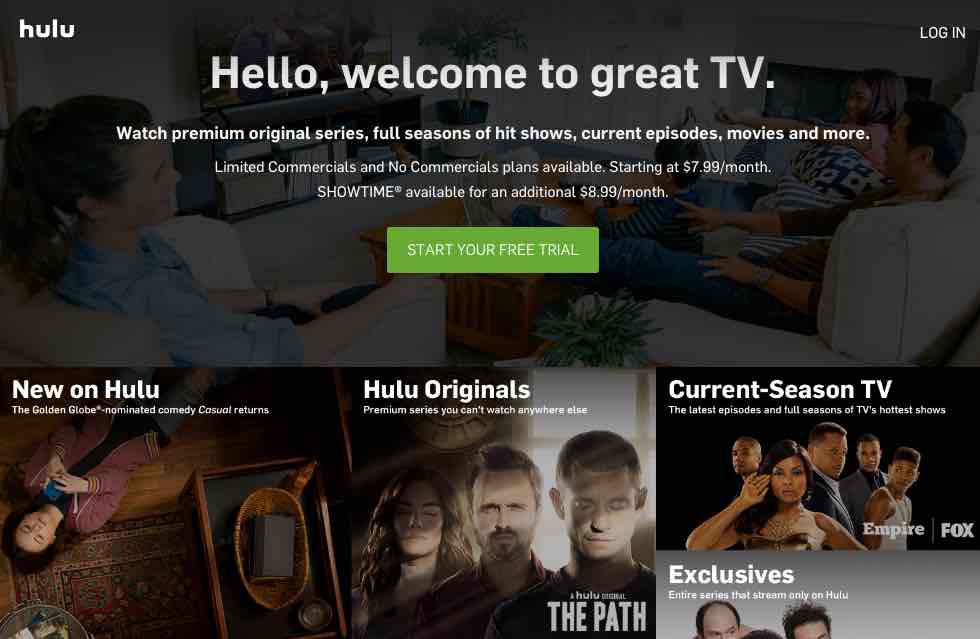 Subscription-based streaming website Hulu is also here at your service even if you choose to opt for the free account, which comes with limited content. Here, without any need to download movies, you can stream more than 100 free movies. Apart from the movies, you can also spend some hours watching lots of free TV episodes. Hulu too has apps for Android and iOS. Again, Hulu isn't available in all countries around the world. So, usage of a VPN or proxy is required.
12. Public Domain Torrents:
Public Domain Torrents is probably the only no-notorious-activity torrent website that I know about. This free movie download website is a home to a number of old and classic movies. Here, movies are available in multiple formats and you can download them according to your need.
13. Vimeo
Just like YouTube, Vimeo also has a good collection of free movies. It goes without saying that the site offers a clean layout that makes it a great place for movie lovers who wish to enjoy free independent movies online and documentaries. There are lots of short movies available for your entertainment. You might not be knowing but Vimeo also offers an On-Demand content section where you can pay for TV shows and movies.
14. Yahoo View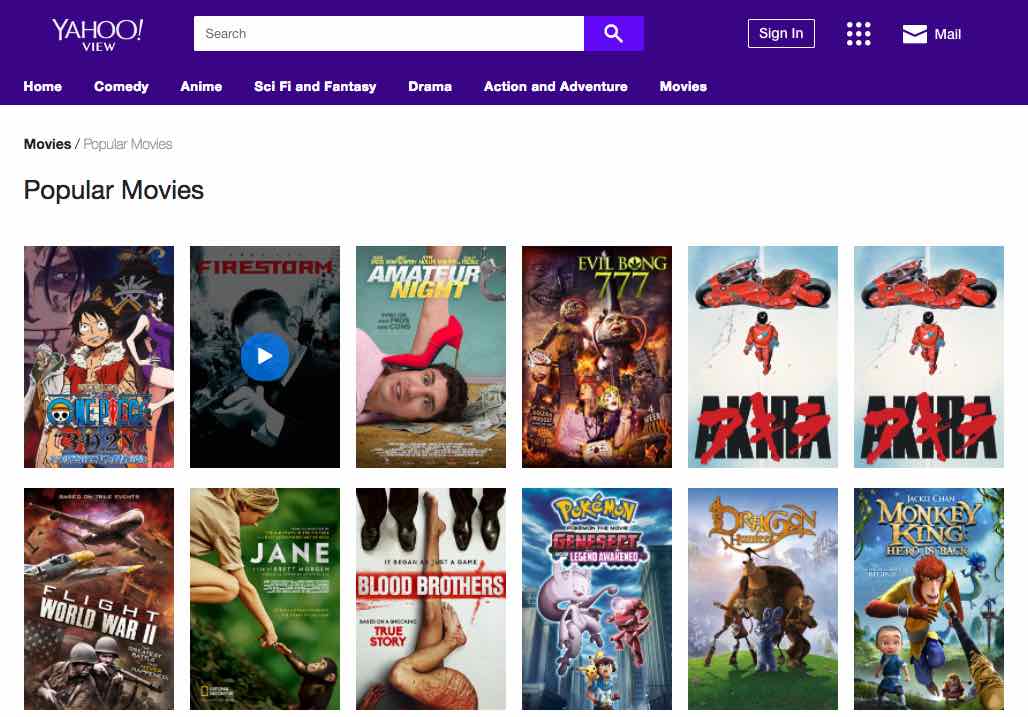 Before telling you further about Yahoo Movies' free movies section, let me mention that you can access most of the free content of this service only in the United States. Some of you might try to access it using a VPN but we can't guarantee if it'll work for you. The site for streaming free movies online has all the content sorted in a clean interface; you can select any genre of your interest by tapping on large rectangular buttons.
In case you're interested, the website also hosts movies trailers, free TV shows, and documentaries. A lot of content on this free movie site is powered by Hulu and other services. Under each video, you'll see a message telling the days remaining before that particular free movie expires from the website.
That's not all. Here are some more sites to check out in 2018:
Some more free movie sites that you can visit are Yidio, Viewster, SnagFilms, Kanopy, Vudu, Movies on the US, Tubi TV, Veoh, etc. These sources have a good collection and I'll recommend you to give them a try and make your weekends memorable.